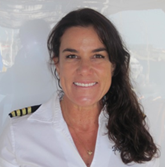 Christiana Virgilio
American
Christiana grew up in San Diego, California. Her childhood revolved around the water; sailing, diving, surfing, windsurfing, and waterskiing. Almost every summer was spent on her family's sailboat. After graduating from UCLA with a degree in Economics she decided to travel and have some fun working on sailboats. Twenty three years later the yachting industry is her career. Christiana has captained Big Eagle through the Baltic, the British Isles, Panama, the Eastern and Western U.S. coastline, the Bahamas, the Caribbean, and the Mediterranean from the very mouth of Gibraltar to Turkey's most Eastern shore. She is a dive master and enjoys guiding the guests on dives.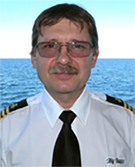 Neli Teodorescu
Romanian
Neli was born and raised in Romania. He is a graduate of the Romanian Naval Academy in Electro Mechanical Engineering. He has served as an Engineer Officer for over thirty years, and worked as a Chief Engineer for twenty years. He worked on Merchant Marine ships, moving onto cruise ships, and then on to the yachting industry. He holds an unlimited license which qualifies him to serve as Chief Engineer on any ship in the world. There is not much that Neli is not capable of fixing. He is invaluable here to us on the Big Eagle.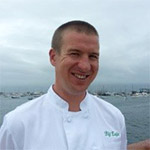 Sean Taylor

Australian
Sean comes from a small coastal town in the South west of Victoria, born into a family of natural foodies. Having developed a palate for fine food very early on in life, Sean has always known that he wanted to be a chef and after starting a culinary apprenticeship at 16 years old, Sean has worked in a variety of restaurants. From a local hotel learning the basics of being a chef, to the high end at Donovan's Restaurant, which held the prestigious rating of two chef's hats. Sean has previously been in the Yachting industry working all over the world on various sized yachts and has spent the past five years owning and managing his own restaurant in Australia. Sean has worked his way up to Sole Chef position and brings a lot of experience with him to the Big Eagle. We're confident you'll love his food as much as we do!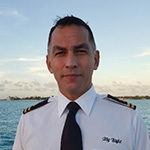 Jose Arias
Costa Rican
Jose is no stranger to the Big Eagle. Jose joined Big Eagle in 2001 and stayed on board before moving back to his homeland of Costa Rica. Jose is very excited to be back on board Big Eagle and looks forward to making your stay a memorable one!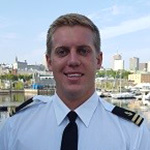 Logan Hansen
American
Logan was born and raised in St. Augustine, Florida. Logan spent his childhood on the water, enjoying sailing, fishing, surfing and diving. It was a natural progression into a career in yachting and since working on yachts, Logan has gained his 100 ton license. Michael is a keen watersport enthusiast and looks forward to helping you experience all that Big Eagle has to offer.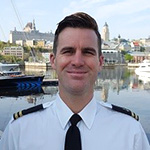 Alex Berry
New Zealand
Alex was raised in Christchurch, New Zealand. His love for the ocean began at a young age, fostered by weekend sailing adventures off the coast of the South Island with his Father. After completing a degree in Finance and Information Systems, Alex worked as a Property Finance Analyst where he developed his fervor for property investment before the call of the seven seas lured him into the world of yachting. Alex has a dedication to learning and education, which culminated in his obtaining his Chief Mate 3000 ton license from the MCA; his hobbies include Scuba diving, Mountain Biking, Rock Climbing and Personal Fitness and Nutrition. Alex looks forward to welcoming you on board Big Eagle
Tyler Mitai-Sykes
New Zealand
Tyler grew up on a small island called Great Barrier Island in New Zealand. Growing up fishing, surfing and diving for seafood; Tyler's love for the sea lead him into the yachting industry where he wishes to grow and progress to one day be a captain.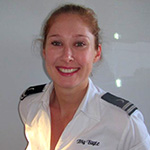 Maria Butler
Australian
Maria was born in the Limpopo province and grew up in Cape Town where she completed her Degree in Food Technology. Prior to studying Maria travelled to Connecticut where she spent time working as an Au Pair to a family with four children. After pursuing a career in the food industry Maria decided to transfer her skills to a career path that would lead her across the world, thinking where better than at sea, Maria gained her qualifications and eagerly joined the Yachting industry. Maria enjoys fine dining and catching a live music concert in her spare time and intends to explore both hobbies more whilst working on board the Big Eagle.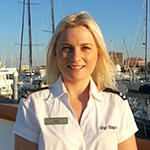 Tayla Hutchison
South African
Tayla was born and grew up in Durban, South Africa. After finishing school, Tayla studied fashion design at Durban University of Technology in South Africa. Tayla is passionate about travel and spent twelve months living and working in India. Tayla is an avid surfer and having spent her childhood growing up by the ocean, Tayla has always been keen to pursue a career on the seas and she looks forward to making your stay on the Big Eagle an enjoyable one.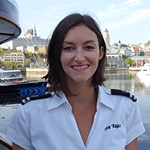 Katie Huth
American
Katie was born and raised in Boynton Beach, Florida. After studying at University and completing a Bachelor's degree in History at the University of Central Florida, Katie followed her passion for the water and began a career in yachting. In her spare time, Katie enjoys Yoga, Hiking and Diving. Katie looks forward to making your stay on Big Eagle a memorable one!