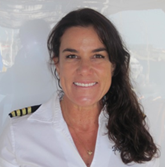 Christiana Virgilio
American
Christiana grew up in San Diego, California. Her childhood revolved around the water; sailing, diving, surfing, windsurfing, and waterskiing. Almost every summer was spent on her family's sailboat. After graduating from UCLA with a degree in Economics she decided to travel and have some fun working on sailboats. Twenty-three years later the yachting industry is her career. Christiana has captained Big Eagle through the Baltic, the British Isles, Panama, the Eastern and Western U.S. coastline, the Bahamas, the Caribbean and the Mediterranean from the very mouth of Gibraltar to Turkey's most Eastern shore. She is a dive master and enjoys guiding the guests on dives.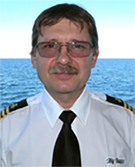 Neli Teodorescu
Romanian
Neli was born and raised in Greater Romania. He is a graduate of the Romanian Naval Academy in Electro Mechanical Engineering.
He has served as an Engineer Officer for over thirty years and worked as a Chief Engineer for twenty years. He worked on Merchant Marine ships, moving onto cruise ships, and then on to the yachting Industry.
He holds an unlimited license which qualifies him to serve as Chief Engineer on any ship in the world. There is not much that Neli is not capable of fixing. He is invaluable here to us on the Big Eagle.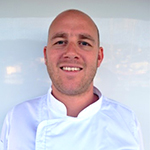 Zac Bacon

Australian
Zac has worked in some of Australia's most respected fine dining restaurants with over 10 years of cooking experience. In addition he has spent the last 4 years based in Singapore, and so has a great understanding of Asian cuisine as well. He has always had a strong interest and a love of good food and has been fortunate enough to have family and colleagues that have an excellent food philosophy.
When he is not on Big Eagle, Zac likes to sail his own yacht which is currently based in Thailand. He looks forward to preparing some amazing meals during your time on Big Eagle and welcomes you to chat with him anytime about your preferences.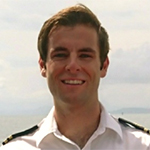 Joshua Woischuk
Australian
Josh grew up two hours east of Melbourne. He previously studied at William Angliss institute and received a diploma of Resort management and water recreation. He started working for a water sports company and progressed quickly learning new skills and showing initiative.
Josh then obtained his yacht master qualification and also became a dive master in 2015. He then moved to the Whitsunday islands and worked on yachts there before joining us on Big Eagle in 2017, he now returns to us as first officer and we are very happy to have him back!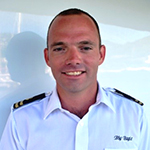 Kyle Pratt
South African
Kyle was introduced to the world of sailing at the age of 14; he immediately fell in love with being on the water and soon after achieved 2 Atlantic crossings before his 18th birthday! It was an inevitable step that Kyle also soon discovered a passion for the world under the sea and took up scuba diving; he got his diving instructors qualification in the Cayman Islands and never looked back. Kyle hopes to always find himself in, on or by the sea! He looks forward to welcoming you on the Big Eagle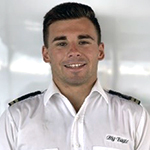 Dan Pelman
South Africa
Dan is from Cape Town South Africa and has been in the yachting industry for over two years now. He has spent most of his career cruising the Mediterranean water.
He is an outdoors person and enjoys all sports. Water sports is his biggest passion and has played water polo at a provincial level.
It is Dan's first time in America and he is very excited to do the season with us here on the Big Eagle.
We are glad to have Dan on board and he cannot wait to meet you!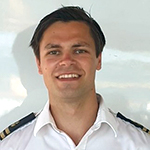 Benny Woischuk
Australian
Benny joins us from near Melbourne in Australia.
Before joining yachting, Benny has worked in Canada at ski resorts, lived in Japan and was a travel agent dealing with river cruises!
However, the pull of the ocean and with family members already in the industry it was not long before yachting became the obvious choice of career.
Benny loves anything sporty in his spare time, hobbies include soccer, snowboarding and he has an interest in beer brewing!
Benny will be happy to help you have an amazing time on Big Eagle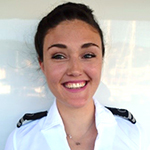 Renee Engels
South African
Renee was born and raised in Pretoria, South Africa, here she studied public relations and loved running events.
Her Love of travel, meeting new people and trying new cuisines led her to start a career in yachting. Renee joins us from a season in the Mediterranean and is excited to explore some new places. Renee's hobbies are boxing, reading and movies.
Renee is excited to be going into her Third year on Big Eagle. Please do not hesitate to ask her any questions or requests you may have; she looks forward to helping you have the most memorable trip on Big Eagle.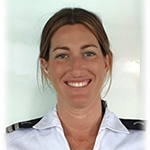 Ali Roberts
Australian
Ali comes to us from Perth, Australia. She was brought up with a very active lifestyle and her love for the outdoors and water only comes naturally. She loves all sports particularly aussie rules football and cricket, she is also a diver and enjoys water sports.
Ali's background is in event management and she has worked on large scale sporting events, such as the 2015 cricket world cup.
She joined yachting 2 and a half years ago to experience amazing destinations and different cultures
We are very fortunate to have Ali join us here on Big Eagle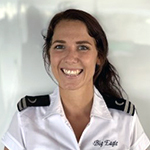 Hannah Bacon
Stewardess
Adventuring is second nature for Hannah. She loves exploring and learning.
Hannah spent the nine months studying graphic design in her home country of Australia, to pursue her love of art. She has lived in Sweden for eight years and enjoyed the culture and furthering her love for food and wine.
She has a passion for traveling scuba diving, art, architecture, yoga, food and wine culture.
Hannah is excited to start her next adventure on the Big Eagle and will be happy to help you with any inquires.