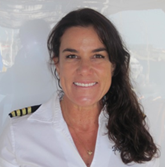 Christiana Virgilio
American
Christiana grew up in San Diego, California. Her childhood revolved around the water; sailing, diving, surfing, windsurfing, and waterskiing. Almost every summer was spent on her family's sailboat. After graduating from UCLA with a degree in Economics she decided to travel and have some fun working on sailboats. Twenty-three years later the yachting industry is her career. Christiana has captained Big Eagle through the Baltic, the British Isles, Panama, the Eastern and Western U.S. coastline, the Bahamas, the Caribbean and the Mediterranean from the very mouth of Gibraltar to Turkey's most Eastern shore. She is a dive master and enjoys guiding the guests on dives.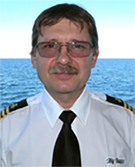 Neli Teodorescu
Romanian
Neli was born and raised in Greater Romania. He is a graduate of the Romanian Naval Academy in Electro Mechanical Engineering.
He has served as an Engineer Officer for over thirty years and worked as a Chief Engineer for twenty years. He worked on Merchant Marine ships, moving onto cruise ships, and then on to the yachting Industry.
He holds an unlimited license which qualifies him to serve as Chief Engineer on any ship in the world. There is not much that Neli is not capable of fixing. He is invaluable here to us on the Big Eagle.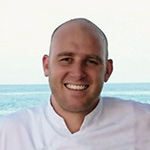 Zac Bacon

Australian
Zac has worked in some of Australia's most respected fine dining restaurants with over 10 years of cooking experience.
In addition he has spent the last 4 years based in Singapore, and so has a great understanding of Asian cuisine as well.
He has always had a strong interest and a love of good food and has been fortunate enough to have family and colleagues that have an excellent food philosophy.
When he is not on Big Eagle, Zac likes to sail his own yacht which is currently based in Thailand
He looks forward to preparing some amazing meals during your time on Big Eagle and welcomes you to chat with him anytime about your preferences.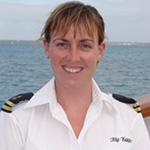 Lesley Fleming
Canadian
Lesley was raised in Ontario, Canada. After graduating from Queen's University she moved to Bangkok for a year to teach kindergarten. Whilst looking for another teaching job, a position opened up for a stew on board her uncle's boat.
Fourteen years later she has gone from stew to deck, working on board various boats of all different sizes. In her spare time she earned her Personal Trainer certification and continues to study and practice to enhance those skills. Working on yachts balances Lesley's need for physical challenge and her desire to travel and see the world.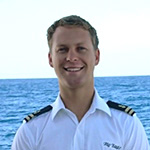 Tony Clarke
Australian
Tony is from a town close to Melbourne, Australia, once he completed high school he was drawn to the coast because of his passion for the ocean.
He studied marine biology but a love of boating caused him to focus more on maritime courses. He drove diving boats for many years and obtained his dive master qualification
In his spare time Tony loves to surf and will grab any opportunity to get out on the water! He looks forward to welcoming you on board Big Eagle.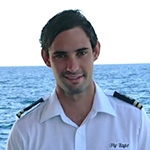 Jarrad Geraghty
Australian
Jarrad was born and raised near Sydney, Australia. His love for the ocean started from a young age, growing up next to the sea and eventually volunteering as a lifeguard for many years.
After high school he completed an apprenticeship in mechanical engineering, but after a career change Jarrad turned to scuba diving.
Living on an island in Queensland he worked as a dive instructor and dolphin feeder, there he found his love for boats and decided to study to start his career in yachting. Jarrad is a keen water sports enthusiast and will make sure you are safe and looked after in the water.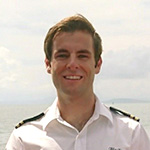 Josh Woischuk
Australian
Josh grew up two hours east of Melbourne and was a stranger to the yachting industry until 3 years ago. He previously studied at William Angliss institute and received a diploma of Resort management and water recreation.
He started working for a water sports company and progressed quickly learning new skills and showing initiative.
Josh then obtained his yacht master qualification and also became a dive master in 2015. He then moved to the Whitsunday islands and worked on yachts there before joining us on Big Eagle.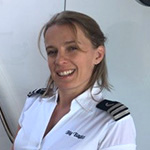 Clair Minto
British
Clair is from a seaside town in the North of England and has always lived near the sea. She has been in the yachting industry for over 10 years on various sized yachts and loves the life and experiences that her career has given her.
Before yachting she worked in Casinos as a croupier and cashier, in the UK and Australia, it was here that Clair heard about the yachting industry and has never looked back!
Please don't hesitate to ask her any questions or requests you may have, she looks forward to helping you have the most memorable trip on Big Eagle.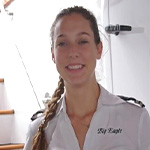 Skyla Francis
South African
Skyla grew up in a small surf town on the East coast of South Africa. She recently joined yachting and is very excited to start a career where she can spend every day on the water and experience new places.
She loves water sports and is a huge animal lover.
Skyla is very happy to be a part of the Big Eagle family.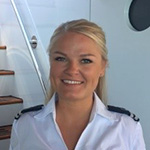 Anna Lindstrom
Finnish
Anna was born and raised in the Finnish countryside; at a young age she discovered her passion to explore which lead her into studying tourism before beginning her adventures on cruise ships.
After a year of exploring some of the most amazing destinations she took a slight turn into the yachting industry and worked in the Mediterranean for a year before joining Big Eagle.
In her free time Anna enjoys travelling, skiing, snowboarding, scuba diving and good food and wine with great friends.