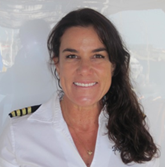 Christiana Virgilio
American
Christiana grew up in San Diego, California. Her childhood revolved around the water; sailing, diving, surfing, windsurfing, and waterskiing. Almost every summer was spent on her family's sailboat. After graduating from UCLA with a degree in Economics she decided to travel and have some fun working on sailboats. Twenty-three years later the yachting industry is her career. Christiana has captained Big Eagle through the Baltic, the British Isles, Panama, the Eastern and Western U.S. coastline, the Bahamas, the Caribbean and the Mediterranean from the very mouth of Gibraltar to Turkey's most Eastern shore. She is a dive master and enjoys guiding the guests on dives.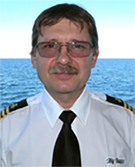 Neli Teodorescu
Romanian
Neli was born and raised in Greater Romania. He is a graduate of the Romanian Naval Academy in Electro Mechanical Engineering.
He has served as an Engineer Officer for over thirty years and worked as a Chief Engineer for twenty years. He worked on Merchant Marine ships, moving onto cruise ships, and then on to the yachting Industry.
He holds an unlimited license which qualifies him to serve as Chief Engineer on any ship in the world. There is not much that Neli is not capable of fixing. He is invaluable here to us on the Big Eagle.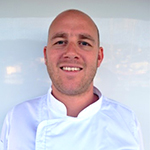 Zac Bacon

Australian
Zac has worked in some of Australia's most respected fine dining restaurants with over 10 years of cooking experience.
In addition he has spent the last 4 years based in Singapore, and so has a great understanding of Asian cuisine as well.
He has always had a strong interest and a love of good food and has been fortunate enough to have family and colleagues that have an excellent food philosophy.
When he is not on Big Eagle, Zac likes to sail his own yacht which is currently based in Thailand
He looks forward to preparing some amazing meals during your time on Big Eagle and welcomes you to chat with him anytime about your preferences.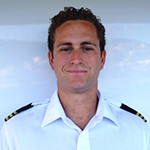 Stefano Gadda
British, Swiss & Italian
Stefano was born and raised on the tiny Caribbean island of St. Maarten, growing up in such a unique place Stefano participated in lots of scuba diving, boating and water sports. Naturally this has led him to pursuing a career in the yacht industry.
Before joining the Big Eagle Stefano studied Management, Economics, and Finance in Ontario, Canada and has a passion for travel. Since joining the industry, Stefano has completed both the Yachtmaster Offshore and PADI Dive Instructor courses and is excited to put his knowledge into action by providing guests with a safe and enjoyable experience on board the Big Eagle.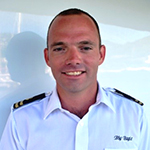 Kyle Pratt
South African
Kyle was introduced to the world of sailing at the age of 14; he immediately fell in love with being on the water and soon after achieved 2 Atlantic crossings before his 18th birthday! It was an inevitable step that Kyle also soon discovered a passion for the world under the sea and took up scuba diving; he got his diving instructors qualification in the Cayman Islands and never looked back. Kyle hopes to always find himself in, on or by the sea! He looks forward to welcoming you on the Big Eagle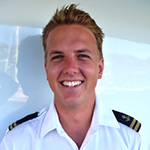 Cory Finlayson
New Zealand
Although Cory was born in New Zealand, he grew up on the beautiful sunshine coast in Australia. It's here he spent over 8 years competing in surf life saving, surfing and swimming, so his love for the water is natural!
He recently joined the yachting world, to combine that love of the ocean with travelling the world.
Cory managed a wholesale bakery before making his drastic career change, a decision he believes to be his best one yet!
We are glad to have Cory on board and he can't wait to meet you!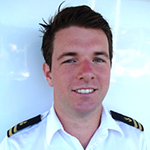 Riley Morrison
Canadian
Riley is from Nova Scotia in Canada, there he studied Biology and engineering, which led him to work in the forestry industry in Northern Canada for 6 years.
After completing school, Riley set off for Cape Town, where he got his yachtmaster qualification and did deliveries up and down the coast of South Africa.
He then spent two seasons in Europe, doing sailboat charters in Croatia and Montenegro. Most recently he worked on a 57m sailing yacht in the med.
Riley has competed in offshore races such as the 2017Fastnet race.
He brings with him that enthusiasm for being on the water, and is a great asset to the Big Eagle.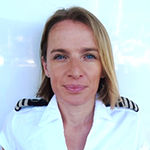 Clair Minto
British
Clair is from a seaside town in the North of England and has always lived near the sea. She has been in the yachting industry for over 10 years on various sized yachts and loves the life and experiences that her career has given her.
Before yachting she worked in Casinos as a croupier and cashier, in the UK and Australia, it was here that Clair heard about the yachting industry and has never looked back!
Please don't hesitate to ask her any questions or requests you may have, she looks forward to helping you have the most memorable trip on Big Eagle.
Gillian Lisyzk
Australian
Gill comes to us from Melbourne, Australia. It is here where she spent over 6 years in the hospitality industry; many of her roles were in restaurant management.
Upon learning of the yachting industry Gillian knew that this was a career path she wanted to take, with her passion for providing excellent service, travel and the outdoors makes yachting the perfect match for her. Gillian has now been in the yachting industry for 3.5 years.
Her hobbies include, Water skiing, wakeboarding and just about anything outdoors.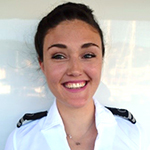 Renee Engels
South African
Renee was born and raised in Pretoria, South Africa, here she studied public relations and loved running events.
Her Love of travel, meeting new people and trying new cuisines led her to start a career in yachting. Renee joins us from a season in the Mediterranean, and is excited to explore some new places.
Renee's hobbies are boxing, reading and movies.
She has a great energy and we are happy to have her join us on the Big Eagle.